The Recent non-marine ostracods of Tunisia: an updated checklist with remarks on their regional distribution patterns and ecological preferences
Non-marine ostracods of Tunisia
Federico Marrone

Department of Biological, Chemical and Pharmaceutical Sciences and Technologies, Section of Zoology, University of Palermo, Italy.

https://orcid.org/0000-0002-4730-0452

Valentina Pieri

Department of Chemistry, Life Science and Environmental Sustainability, University of Parma, Italy.

Souâd Turki

National Institute of Marine Sciences and Technologies, Salammbô, Tunisia.

https://orcid.org/0000-0002-7616-5595
Giampaolo Rossetti | giampaolo.rossetti@unipr.it

Department of Chemistry, Life Science and Environmental Sustainability, University of Parma, Italy.

https://orcid.org/0000-0002-8136-6965
Abstract
Different lines of investigation have recently contributed to increasing the available knowledge about the invertebrates inhabiting inland waters of north Africa, but a comprehensive synopsis on Tunisian Ostracoda is missing to date. An updated checklist of Recent non-marine ostracods from Tunisia and data on their distribution is thus offered here, representing the most extensive survey on this crustacean group ever carried out in inland waters throughout the country. One-hundred-five sites covering various climate zones, from Mediterranean to desert areas, were sampled between 2002 and 2012. Most of the considered water bodies were temporary or ephemeral habitats, but a few permanent sites were sampled as well. Overall, 18 genera and 32 taxa of putative species rank were collected in the frame of this survey, among which nine species and five genera were new to Tunisian fauna. As a result of this study and based on previous investigations, nine families (Candonidae, Cyprididae, Cytherideidae, Darwinulidae, Ilyocyprididae, Leptocytheridae, Limnocytheridae, Loxoconchidae, Paradoxostomatidae), 29 genera and at least 45 species of non-marine ostracods are currently known for Tunisia, which thus prove to host the most diverse ostracod fauna among north African countries. The number of species occurring in a single sample varied from 1 to 4. The Eucypris virens complex was the most widespread taxon (58 records), followed by Heterocypris barbara (30 records), Heterocypris incongruens (22 records), and Sarscypridopsis aculeata (16 records). For some ostracod species, clear distributional gradients associated with different climatic conditions were observed. The affinities with adjacent Maghrebian ostracod faunas are discussed. This study confirms the crucial role played by marginal aquatic habitats for the conservation of biodiversity, in particular in arid and semi-arid regions.
Downloads
Download data is not yet available.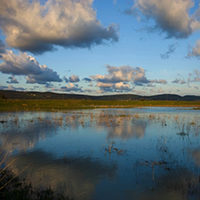 Info
Section
Original Articles
Edited By
Diego Fontaneto, CNR IRSA Verbania, Italy
Keywords:
non-marine Ostracods, Tunisia, Maghreb, distribution, ecology, climate zones
Statistics
Abstract views:

1158



PDF:

108

Supplementary:

28

HTML:

0
How to Cite
1.
Marrone F, Pieri V, Turki S, Rossetti G. The Recent non-marine ostracods of Tunisia: an updated checklist with remarks on their regional distribution patterns and ecological preferences: Non-marine ostracods of Tunisia. J Limnol [Internet]. 2020Sep.17 [cited 2021Mar.2];79(3). Available from: https://jlimnol.it/index.php/jlimnol/article/view/jlimnol.2020.1982
Copyright (c) 2020 The Author(s)
This work is licensed under a Creative Commons Attribution-NonCommercial 4.0 International License.