Changes in cyanobacterial density due to application of Artificial Floating Island model with macrophytes: an experimental case study in a tropical reservoir
Changes in toxic cyanobacterial density due to macrophytes floating island
Pedro Ramírez-García | micro@unam.mx

Laboratorio de Bacteriología, UIICSE, División de Investigación y Posgrado, Universidad Nacional Autónoma de México, Campus Iztacala, Tlalnepantla, Mexico.

David Chicalote-Castillo

Laboratorio de Bacteriología, UIICSE, División de Investigación y Posgrado, Universidad Nacional Autónoma de México, Campus Iztacala, Tlalnepantla, Mexico.
Abstract
The Valle de Bravo (VB) reservoir is part of an important hydraulic system that provides about 40% of potable water to 21.5 million inhabitants of the Metropolitan Zone of Mexico City (Mexico). This reservoir shows deterioration in water quality due to its current eutrophic condition, which favors the recurring of cyanobacterial blooms. To date, there are no restoration strategies for this reservoir, so the use of eco-technologies such as Artificial Floating Islands (AFI) is proposed for the removal of nutrients and the improvement of water quality. Therefore, in this work AFIs have been implemented using two macrophytes (Phragmites australis (AFI-P) and Schoenoplectus sp. (AFI-S)) to evaluate the presence and distribution of potentially toxic cyanobacteria in relation to physicochemical variations at the AFI sites. The study was carried out over a period of 24 months (October 2016 -September 2018) divided into two cycles (C-I and C-II) with a dry and rainy season each. Cyanobacteria were the dominant group in the phytoplankton during all the study period. Nine potentially toxic cyanobacterial species were detected, with the predominance of Microcystis aeruginosa, Aphanizomenon yezoense, Pseudanabaena mucicola, Anabaena planctonica and Planktothrix agardhii. In this work, AFIs increased nitrates and had no effect on phosphates. Cyanobacteria were not reduced at AFI sites, however in rainy season in the second annual cycle (C-II) the concentrations of extracellular microcystins in the AFI-P and AFI-S were decreased while intracellular toxins were more strongly reduced only in the AFI-S.
Each AFI had a specific effect on four out of five potentially toxic cyanobacteria. Thus, AFI-P promoted the increase of M. aeruginosa but reduced A. planctonica, while AFI-S promoted both A. yezoense and P. mucicola. The AFIs modified the dynamics among cyanobacteria particularly diazotrophic A. yezoense which was favored by nitrates and the other three species maintained their presence by the phosphates. M. aeruginosa, non-diazotrophic, responded to nitrates only in the absence of A. yezoense. Finally, in VB reservoir we found a mutually exclusive relationship between M. aeruginosa and A. yezoense likewise between A. planctonica and P. mucicola.
Downloads
Download data is not yet available.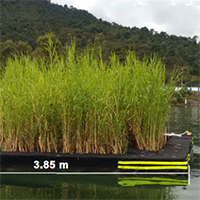 Info
Section
Original Articles
Edited By
Rossano Bolpagni, Dept. of Life Science, Inland water Ecology Lab, University of Parma, Italy
Supporting Agencies
DGAPA-PAPIIT (IN219218) for financial support and to National Commission of Water, Mexico 2016-2017 for partially supported this research
Keywords:
Phragmites australis, Schoenoplectus spp., floating island, cyanobacteria, tropical reservoir
Statistics
Abstract views:

27



PDF:

9

Supplementary:

3
How to Cite
1.
Ramírez-García P, Chicalote-Castillo D. Changes in cyanobacterial density due to application of Artificial Floating Island model with macrophytes: an experimental case study in a tropical reservoir: Changes in toxic cyanobacterial density due to macrophytes floating island. J Limnol [Internet]. 2020Oct.28 [cited 2020Nov.27];(AOP). Available from: https://jlimnol.it/index.php/jlimnol/article/view/jlimnol.2020.1959
Copyright (c) 2020 The Author(s)
This work is licensed under a Creative Commons Attribution-NonCommercial 4.0 International License.