Representative monitoring of the calcifying alga Phacotus lenticularis (Chlamydophyceae) in lentic ecosystems
Representative monitoring of calcifying algae
Sebastian Lenz

Department of Life Sciences Weihenstephan, Aquatic Systems Biology Unit, Limnological Research Station Iffeldorf, Technical University of Munich, Germany.

Uta Raeder

Department of Life Sciences Weihenstephan, Aquatic Systems Biology Unit, Limnological Research Station Iffeldorf, Technical University of Munich, Germany.

Juergen Geist | geist@wzw.tum.de

Department of Life Sciences Weihenstephan, Aquatic Systems Biology Unit, Limnological Research Station Iffeldorf, Technical University of Munich, Germany.

http://orcid.org/0000-0001-7698-3443
Abstract
The biogenic carbonate precipitation by the freshwater alga Phacotus lenticularis may play a role in long-term carbon (C) fixation that has not yet been quantified. This is partly due to the absence of a standardised methodology to representatively sample and assess the cell density and sedimentation of P. lenticularis in lakes. The objective of the present study was to define an adequate sampling methodology taking into account the spatiotemporal variation of P. lenticularis as well as the sedimentation and dissolution of calcite shells. Simultaneous measurements in three different lake sub-basins of Lake Grosser Ostersee, Germany, showed that the spatial cell density of P. lenticularis was similar in each sub-basin. At all sites, the vertical P. lenticularis cell density maxima corresponded with the slowly downshifting thermocline from depths of 2 to 6 m. During the entire growth period, composite samples from 0 to 7 m included 89% of the total P. lenticularis population. Lake bathymetry, as well as external factors like wind exposure, did not appear to affect the abundance of these calcifying algae. Sediment traps at a depth below the thermocline (at 7 m) and 1 m above the lake bottom recorded sedimentation rates of P. lenticularis shell halves (sh) between 1.1×106 and 1.1×108 sh m−2 d−1, while mean cell concentrations in the water column were between 1.1×108 and 1.7×109 shells per m². Sinking velocity ranged between 3 and 4 m d−1. Sediment from traps installed at a depth of 7 m did not reflect mean shell concentrations in the water column above. Dissolution of carbonates reduced the number of shells in sediment traps at the lake bottom and during the storage of samples. A laboratory experiment showed that even distilled water used for dilution during microscopic analysis led to dissolution of P. lenticularis shells. In conclusion, combined sampling of P. lenticularis from open water and sediment traps close to the lake bottom delivers a most representative assessment of biogenic carbonate precipitation. Due to dissolution effects, high temporal resolution along with appropriate sample preservation are crucial, whereas spatial representativeness was already achieved with low number of sampling sites per lake.
Downloads
Download data is not yet available.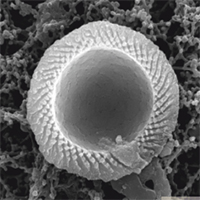 Info
Section
Original Articles
Edited By
Cristiana Callieri, CNR-IRSA Verbania, Italy
Supporting Agencies
Bavarian State Ministry of the Environment and Consumer Protection, Project Nr. TLK10U-6627
Keywords:
biogenic carbonate precipitation, calcite shells, carbonate dissolution, green flagellates, hard-water lake, microfossil, quantitative plankton sampling
Statistics
Abstract views:

297



PDF:

111

HTML:

0
How to Cite
1.
Lenz S, Raeder U, Geist J. Representative monitoring of the calcifying alga <em>Phacotus lenticularis</em&gt; (Chlamydophyceae) in lentic ecosystems: Representative monitoring of calcifying algae. J Limnol [Internet]. 2020Jan.30 [cited 2020Oct.29];79(2). Available from: https://jlimnol.it/index.php/jlimnol/article/view/jlimnol.2020.1946
Copyright (c) 2020 The Author(s)
This work is licensed under a Creative Commons Attribution-NonCommercial 4.0 International License.