Supraseasonal drought in an Alpine river: effects on benthic primary production and diatom community
Diatoms and chlorophyll a in an intermittent Alpine river
Abstract
Over the last decades, the ongoing global climate change, combined with consequent increasing water demand for human needs, is causing recurrent droughts in previously perennial streams. These phenomena have been dramatically increasing their extent, with significant repercussions on the entire food web. Consequences of water scarcity are particularly remarkable in mountain streams, where the frequency of droughts is increasing at a rate that does not allow species to adapt. In the present research, we monitored benthic diatom communities within an intermittent Alpine river (Pellice River; North-Western Italy) during the three key phases of its hydrological cycle: i) stable flow ii) lentification iii) rewetting of the riverbed after a supraseasonal drought lasting five months. We tested the response of diatom communities in terms of compositional, structural and functional metrics (primary production, species composition, ecological guilds, life forms and eco-morphological groups) hypothesising both taxonomic and functional changes during the different steps of this hydrological cycle. Significant changes in benthic chlorophyll a occurred in the three hydrological phases. In particular, the relative proportion of the chlorophyll a of the three main autotrophic groups inhabiting the periphyton (namely diatoms, cyanobacteria and green algae) resulted as a reliable metric for the evaluation of the hydrological disturbance. Diatom chlorophyll a significantly decreased during both lentification and drought. The three phases were significantly characterized by different species and functional groups. During the stable flow the low profile (i.e., species of short stature, adapted to high current velocities and low nutrients concentrations) was the most representative guild and Achnanthidium pyrenaicum was the most abundant species; this phase was also characterized by the presence of stalked taxa. We observed a significant decrease of high profile species (i.e., species of tall stature, adapted to high nutrients concentrations and low current velocities) during the lentification phase, which was characterized by taxa belonging to the genera Navicula, Nizschia and Ulnaria. During the rewetting, small and medium sized high profile diatoms as well as motile ones (i.e., fast moving species) characterized the assemblages. Our results showed that the complete recovery of diatom communities took at least 70 days after water return. The rapid and widespread extension of droughts in the Alpine area will have severe consequences on the river biota, also favouring the spread of invasive taxa. For this reason, outlining patterns of diatom response to droughts and detecting reliable metrics for the evaluation of this specific impact is very urgent and important.
Downloads
Download data is not yet available.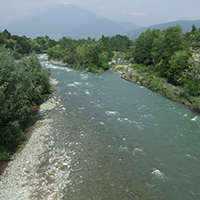 Info
Section
Original Articles
Edited By
Diego Fontaneto, CNR-IRSA Verbania, Italy
Keywords:
Bacillariophyceae, functional metrics, hydrological cycle, lentification, resilience
Statistics
Abstract views:

353



PDF:

114

Supplementary:

34

HTML:

0
How to Cite
1.
Falasco E, Doretto A, Fenoglio S, Piano E, Bona F. Supraseasonal drought in an Alpine river: effects on benthic primary production and diatom community: Diatoms and chlorophyll a in an intermittent Alpine river. J Limnol [Internet]. 2020Jan.15 [cited 2020Sep.22];79(2). Available from: https://jlimnol.it/index.php/jlimnol/article/view/jlimnol.2020.1933
Copyright (c) 2020 The Author(s)
This work is licensed under a Creative Commons Attribution-NonCommercial 4.0 International License.