Hutchinson's tree
Abstract
"There is a story, perhaps apocryphal, of the distinguished British biologist, J.B.S. Haldane, who found himself in the company of a group of theologians. On being asked what one could conclude as to the nature of the Creator from a study of his creation, Haldane is said to have answered "An inordinate fondness for beetles!".
Downloads
Download data is not yet available.
References
Bonatti E, 1966. North Mediterranean climate during the last Warm Glaciation. Nature 209:984 -986.
Edmondson YH, 1971. Some components of the Hutchinson legend. Limnol. Oceanogr. 16:157-163.
Gould SJ, 1987. Exultation and explanation, p. 180-188. In: S.J. Gould (ed.), An urchin in the storm. New York, Norton and Co.
Gould SJ, 1995. A special fondness for beetles, p. 377-387. In: S.J. Gould (ed.), Dinosaurs in a haystack. New York, Three Rivers Press.
Hutchinson GE, 1959. Homage to Santa Rosalia, or why there are so many kinds of animals. Am. Nat. 93:145-159.
Hutchinson GE, 1970. Ianula: an account of the history and development of the Lago di Monterosi, Latium, Italy. Philadelphia, American Philosophical Society: 178 pp.
Slack NG, 2010. G. Evelyn Hutchinson and the invention of modern ecology. Yale University Press.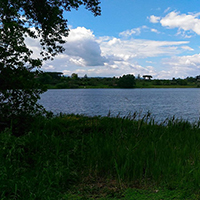 Downloads
Info
Section
80 Years of the Journal of Limnology
Statistics
Abstract views:

231



PDF_Early View:

45
How to Cite
1.
Bonatti E. Hutchinson's tree. J Limnol [Internet]. 2021 Jul. 13 [cited 2021 Oct. 19];. Available from: https://jlimnol.it/index.php/jlimnol/article/view/2034
License
Copyright (c) 2021 The Author(s)
This work is licensed under a Creative Commons Attribution-NonCommercial 4.0 International License.